Air Fried Alaska Pollock Nuggets with Homemade Tartar Sauce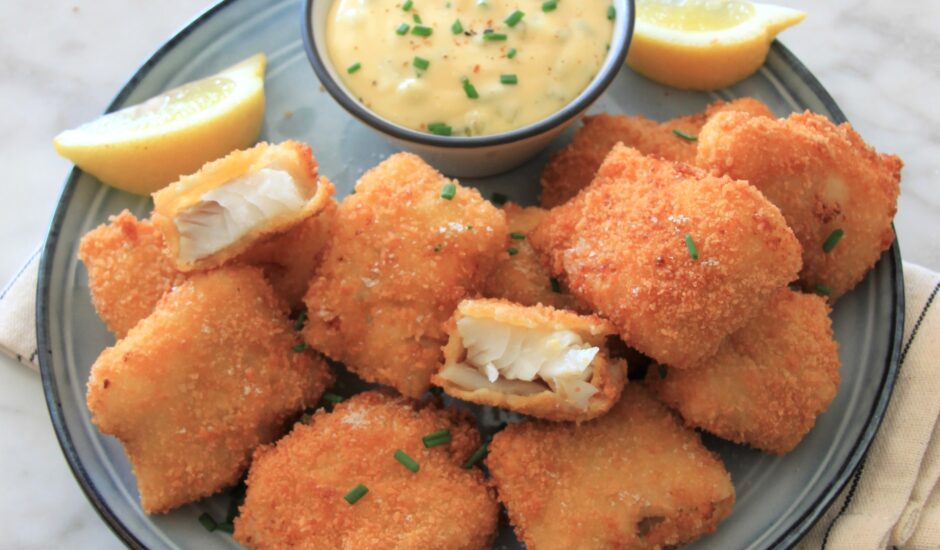 These air fried wild Alaska pollock nuggets are the perfect weeknight dinner for the whole family. Prep and cleanup are a breeze!
Prep Time: 10 minutes
Cook Time: 9 minutes
Total Time: 19 minutes
Servings: 4 servings of 4 nuggets
Yield: 14 nuggets
Ingredients
4 wild Alaska pollock fillets
4 tablespoons flour
2 beaten eggs
1 bowl breadcrumbs

For tartar sauce:

2 egg yolks
1/2 cup avocado oil
1 tablespoon mustard
1 dash of vinegar
2 dill pickles, finely chopped
1/2 white onion
A few stalks of chives or other fresh herbs (dill or parsley)
Salt and pepper, to taste
Lemon wedges
Preparation
Step 1

Make the pollock nuggets

Cut the Alaska pollock fillets into large pieces and turn them one by one first in the flour, then in the beaten eggs and then in the breadcrumbs. Set aside until frying.

Heat air fryer to 400 degrees. Spray pollock nuggets with a quick spritz of avocado oil. Gentle place in air fryer basket and fry for 9 minutes. Shaking the basket halfway through.

Step 2

Make the tartar sauce

Whisk egg yolks, mustard and vinegar together. Once those ingredients come together, slowly whisk in oil in a slow stream to make a creamy mayonnaise.
Note: The ingredients must be at room temperature for the mayonnaise to rise well.

Season mayonnaise with salt and pepper and add chopped pickles, onion and any herbs.

Step 3

Serve and Enjoy!

Salt pollock nuggets lightly once removing from air fryer.

Serve with tartar sauce and lemon wedges.

Note: Substitute store bought tartar sauce for an even easier meal!