Wild Alaska Firecracker Salmon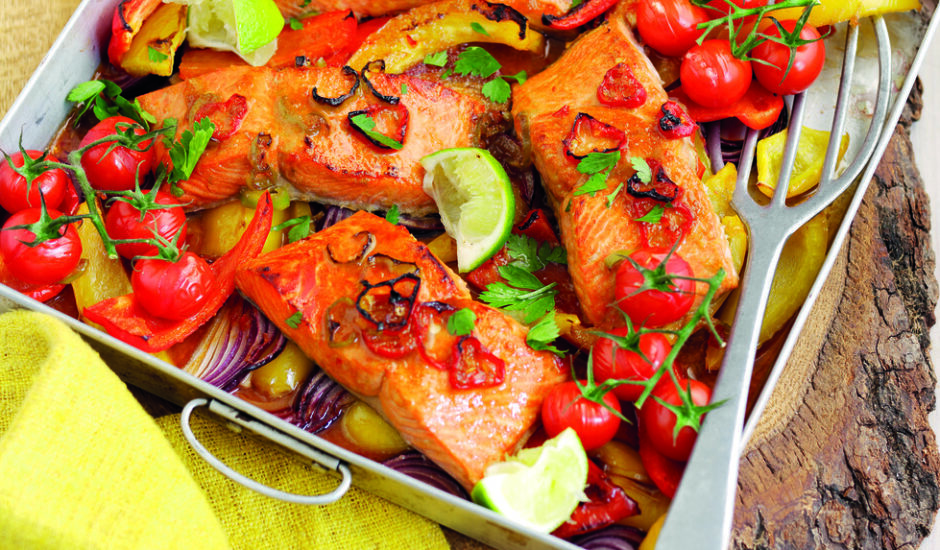 Be the hero of your 4th of July picnic with this tasty wild Alaska firecracker salmon!
Prep Time: 30 minutes
Cook Time: 13 minutes
Total Time: 43 minutes
Servings: 4
Yield: 4
Ingredients
4-4 ounce wild Alaska salmon fillets
2 tablespoons toasted sesame oil
2 tablespoons light soy sauce
2 tablespoons sweet chili sauce
1 green and 1 red chili, deseeded and thinly sliced
2 teaspoons freshly grated ginger
1 lime, juiced and zested
2 yellow or red peppers, deseeded and sliced
1 red onion, thinly sliced
1 tablespoon vegetable oil
4 bunches cherry tomatoes, on the vine
Salt and pepper, to taste
Chopped fresh chives and/or flat leaf parsley and lime wedges, to garnish
Preparation
Step 1

Marinate the salmon.

Put the salmon fillets into a shallow non-metallic dish. Mix together the sesame oil, soy sauce, sweet chili sauce, chilies, ginger, lime zest and lime juice. Pour over the salmon, then cover and leave to marinate for at least 20 minutes.

Step 2

Grill the veggies and salmon.

Preheat the grill. Put the peppers and onion onto a large grill basket or tray, sprinkle with a little vegetable oil and grill for 3-4 minutes. Turn the vegetables and arrange the salmon fillets on top. Drizzle the marinade over the fish and vegetables.

Grill for 5-6 minutes, add the tomato bunches and grill for 2-3 minutes more. Sprinkle with salt and black pepper.

Step 3

Serve and enjoy!

Serve, scattered with chopped fresh chives or flat leaf parsley, with lime wedges on the side. Enjoy!