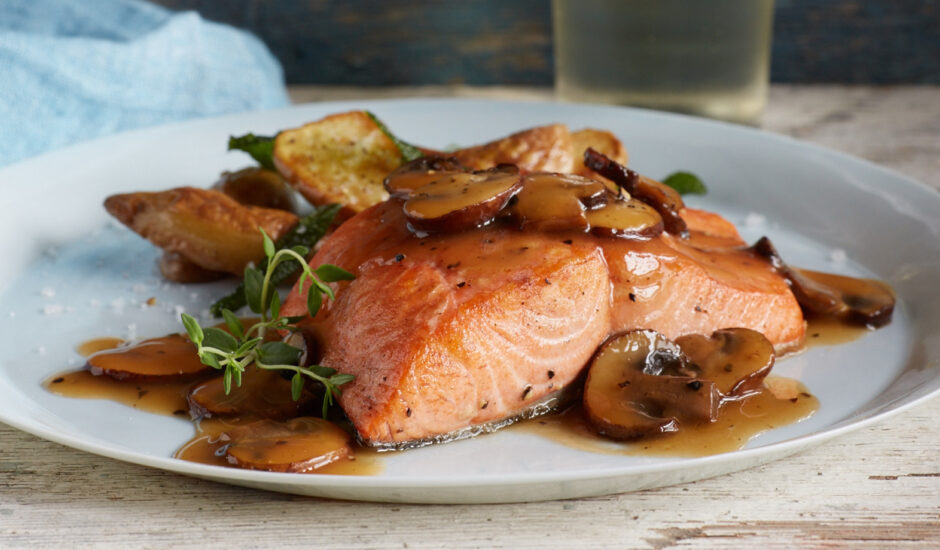 This quick and simple classic recipe gets an upgrade with Alaska salmon.
Prep Time: 10 minutes
Cook Time: 20 minutes
Total Time: 30 minutes
Servings: 4
Yield: 4 to 6 oz salmon plus sauce per serving
Ingredients
4 Alaska Salmon fillets (4 to 6 oz. each)
Salt and pepper, to taste
2 cups flour
1/2 cup olive oil                                        
1 cup Marsala wine
2 cups mushrooms, sliced
2 cups chicken stock
2 teaspoons fresh thyme
2 Tablespoons cold butter
4 fresh thyme sprigs, for garnish
Nutrition Facts
| | |
| --- | --- |
| Calories | 875 |
| Total fat | 45g |
| Saturated fat | 9g |
| Calories from fat | 46% |
| Cholesterol | 110mg |
| Protein | 42g |
| Carbohydrate | 61g |
| Fiber | 2g |
| Sodium | 641mg |
| Calcium | 28mg |
| Omega-3 fatty acids | 1960mg |
Instructions
Step 1

Prepare salmon

Season Alaska Salmon fillets with salt and pepper, to taste.  Place the flour on a plate, season with salt and pepper, to taste.  Dredge both sides of each salmon fillet in the seasoned flour, shaking off the excess flour.

Heat a large sauté pan, add the olive oil, then place each piece of salmon into the pan.  Cook for 2 to 4 minutes, turn the fillets over and cook until almost done.  Remove fillets from pan; hold aside.

Step 2

Prepare sauce

Off the heat, carefully add the Marsala wine to the pan, scraping the bits off the bottom.  Return pan to the heat and add the mushrooms.  Season with salt and pepper, to taste, and cook for 1 minute.  Add the stock and thyme, and let the liquid reduce by 1/2.

Step 3

Finish salmon

Return the salmon fillets to the pan.  Cook, while basting the fish, until the fillets are heated through.  Remove fish fillets to 4 serving plates.

Step 4

Finish sauce and serve

Return the pan to heat, add the cold butter and swirl until incorporated and sauce slightly thickens.  Remove from heat and divide sauce evenly over the 4 salmon fillets.  Garnish each plate with thyme sprig, if desired.
Nutrition Facts
| | |
| --- | --- |
| Calories | 875 |
| Total fat | 45g |
| Saturated fat | 9g |
| Calories from fat | 46% |
| Cholesterol | 110mg |
| Protein | 42g |
| Carbohydrate | 61g |
| Fiber | 2g |
| Sodium | 641mg |
| Calcium | 28mg |
| Omega-3 fatty acids | 1960mg |