Northern Lights: Sea the world Published in National Fisherman, October 6, 2021
Guest Author: Alaska Lt. Gov. Kevin Meyer
We recognize that responsible seafood sourcing has both environmental and social implications, and it's important that we find transparency in our seafood supply chain.
What a time it's been, these past 20 months. We have seen every sector of society turned upside down and inside out. We have adapted and overcome many of these challenges, and still look forward to the future as optimistically as possible. Part of that optimism is demonstrated by getting back to business together and looking ahead to the future.
Every year the Alaska Seafood Marketing Institute holds its annual All Hands on Deck meeting, a three-day-long public conference bringing together all ASMI staff, contractors and seafood experts to present and discuss current marketing efforts, as well as strategies and challenges facing the industry, with the ASMI Board of Directors and the ASMI species and operational committees. The event is free and open to the public. Registration is not required.
As a new ex-officio member of the board, I am excited to participate in my first All Hands on Deck meeting. Typically held in Anchorage (with the ability for the public to call in), it has been an excellent opportunity for people from across the globe and the seafood sector to shake hands face to face and collaboratively get down to work. Like last year's successful event, this year's event will also be fully virtual.
All Hands has always been an excellent opportunity for anyone from the fleet, processing sector, or other interested groups to be involved in ASMI's approach to its mission of increasing the positive awareness of the Alaska Seafood brand and raising the value of Alaska seafood.
Established via Alaska state statute in 1981, ASMI has spent the last four decades bringing together knowledge and expertise across all aspects of this quintessential Alaskan industry to navigate changes at home and abroad and ensure this resource retains its competitive advantage in global markets.
Soon after ASMI began, farmed salmon was gaining market share at an alarming rate, driving values down for Alaska's fishermen. Through ASMI's work and partnership with industry efforts, the quality of Alaska's world-class seafood shined through, building a brand that consumers love and trust.
ASMI was an early champion of Alaska's legendary responsible and science-based fisheries management systems, recognizing and deploying this message and trend long before sustainability was a common market term. This has positioned Alaska as a world leader in sustainable seafood.
Today, ASMI continues to look ahead at ways to support and champion the Alaska seafood industry's efforts to navigate the challenges ahead, whether that's pivoting to digital marketing support during the global pandemic, building new markets for species that have seen their traditional markets shift as a result of trade barriers, or working with industry to develop new products and tastes for species the world hasn't discovered yet.
Representing all major species of commercially harvested seafood in Alaska, ASMI ensures there is always a trusted, quiet power behind the word "Alaska" around the world.
The most important parts of All Hands on Deck will be the contributions from these meetings, providing ASMI program staff with strategic direction, constructive feedback on program tactics, provide market and species insight, and represent the best interest of the Alaska seafood industry as a whole.
The 2021 All Hands on Deck event will be hosted online Tuesday, Nov. 9 – Thursday, Nov. 11, 2021.
There will be challenges to holding such a robust virtual event, and ASMI is working hard to create a smooth, efficient platform to share valuable resources and support productive discussion.
2021 Conference Highlights
Q&A: Customer Advisory Panel
The CAP is made up of 10 industry leaders in the foodservice, distribution, consumer packaged goods, and retail sectors, from key geographic markets, including the United States, United Kingdom, China and Japan. They will address consumer trends and how the Alaska seafood industry can best position itself to respond to the impacts of the pandemic and continue to drive consumption.
Species and Operational Committee Meetings
The species committees take a deeper dive into discussions on the market challenges and opportunities and needs of specific species groups.
The species committees then share their updates with the operational committees to help in the annual planning in support of ASMI's program areas, including International Marketing, Domestic Marketing, Communications and Consumer PR and Seafood Technical.
Board of Directors Meeting & Networking
All Hands on Deck brings together a unique cross-section of industry participants, including fishermen, processors, seafood trade members, government representatives and other groups from across Alaska and the world.
There is critical work to be done Nov. 9-11 in steering our efforts to support the industry moving forward. So much has changed with the Legislature and federal funding, it is more important than ever for all ASMI stakeholders to pull up a seat at the virtual table and engage with their unique ideas and perspectives.
While we look forward to the opportunity to meet in person in the future, we welcome your participation, which is made safer, and in some ways more accessible, by hosting the event online. More information can be found at www.alaskaseafood.org/all-hands-on-deck-2021.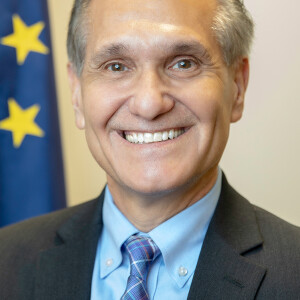 Alaska Lt. Gov. Kevin Meyer
---
Each month, ASMI curates a column for National Fisherman highlighting topics and issues relevant to Alaska seafood called "Northern Lights" which is authored by rotating voices and organizations from across the industry.